Backlash and Fundamentalism: A discussion paper of the Ubuntu Symposium
A discussion paper exploring anti-gender politics and patriarchal backlash against women's rights and gender equality.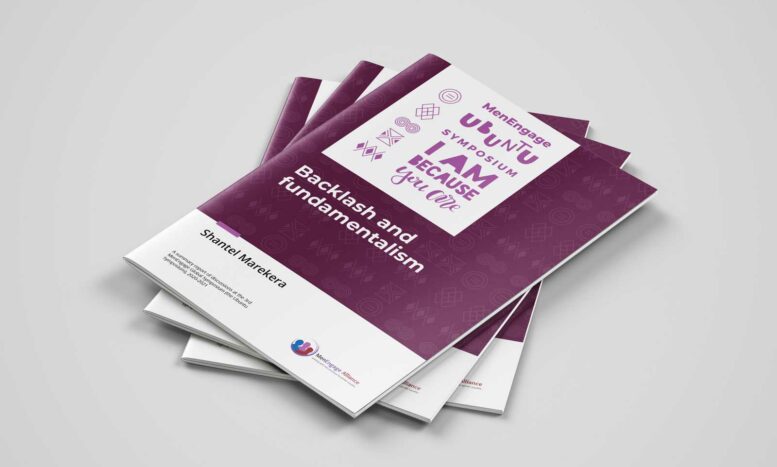 The paper looks at the trends associated with resistance to feminism and gender equality. In particular, it shares emerging insights on opposition to rights and social justice and how these forms of opposition relate to norms and values around masculinities.
The discussion paper is based on many hours of discussions and contributions around the 3rd MenEngage Global Symposium – the Ubuntu Symposium. It is based on the inputs of many activists, researchers, policy-makers, and people working with men and boys for gender justice around the world. It is therefore a useful resource for some of the latest discussions, reflections, and experiences from a range of people working to address ant-feminist and anti women's rights backlash.
The paper reflects the political framework of the MenEngage Ubuntu Symposium with the themes of: intersectionality feminisms, accountability, 'power with', and transformation.
Who will find this resource useful?
This report is a useful entry point for anyone interested in understanding different forms of backlash to feminist movements. It offers recommendations for activists, researchers, policy-makers, and people who wish to address anti-feminist backlash in their efforts for  gender, and social justice – and as allies with feminist movements.
Find out more
This paper is part of a series. Click here to access the other Ubuntu Discussion Papers on a range of topics.
Explore the video playlist of discussions on misogyny and anti-feminist backlash.
Read more about the MenEngage Ubuntu Symposium and the key outcome document: the Ubuntu Declaration and Call to Action.
About the authors
This paper was authored by Shantel Marekera for MenEngage Global Alliance, with reviews from Gabrielle Hosein, Jerker Edstrom, Sinéad Nolan, and Magaly Marques, with copy editing by Jill Merriman.
Photo credit: Weniliou / Shutterstock