The Centre aims at supporting and promoting action research that furthers the development of boys and men as gender equitable human beings. Therefore, CMMS seeks to build bridges among a new generation of researchers, practitioners, and activists who want to promote positive masculinities and contribute to develop gender equitable policies and practices addressing masculinities and challenging patriarchy.
Action Research on Community Dialogue Addressing Masculinities to End Violence Against Women & Girls 2012-13
CMMS conducted an action research at Rangpur, Pabna, Natore and Sirajganj District between December 2012 – June 2013 that aimed to take an in-depth look at the outcome of the implementation of the community dialogue facilitation tool for women empowerment and gender equality developed by Dr. Saikh Imtiaz for Department of Women Affairs (DWA), Ministry of Women and Children Affairs. Based on the overall assessment of the community dialogue facilitation tool, the prime concern of the action research project was to understand men's subjectivity in relation to institutional practices in the study area to find out how and why men behave differently with regard to violence against women.
The community dialogue facilitation tool was used for the research along with community dialogue sessions with 7000 men and women that was designed to identify real cases of enactment of positive and negative masculinities from the community. The sessions tried to see how men react to such cases in relation to the practices in their own life and whether such training session helps to initiate self-reflexive processes among men.
The main focus of the action research was the initiation of Community Dialogue which was to raise self-reflexivity among the men with regard to violence against women and girls.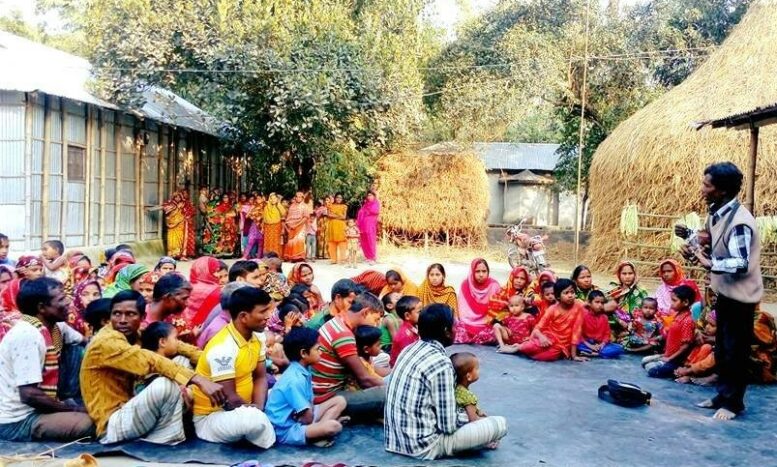 The BraveMen Campaign
BraveMen Campaign (BMC) has been a unique self reflexive learning process starting at an early age, helping young and adolescent boys to embody positive forms of masculinities while mobilizing girls to overcome negative impact of femininity to fight Gender Based Discrimination and Violence. The BMC approach involves young men, women, boys and girls in micro-level, inclusive, tolerant and gender transformative practices at home and then connect it with community activism leading to more gender equitable, inclusive and tolerant macro-level behavior and preventing violence against women & girls
Redefining the idea of bravery, as an act of protesting discrimination and violence instead of committing those, BMC celebrates role models of gender-based violence prevention and involve men and boys without demonizing those. Since 2012 BMC has involved 108 schools and 3000+ students from different districts of Bangladesh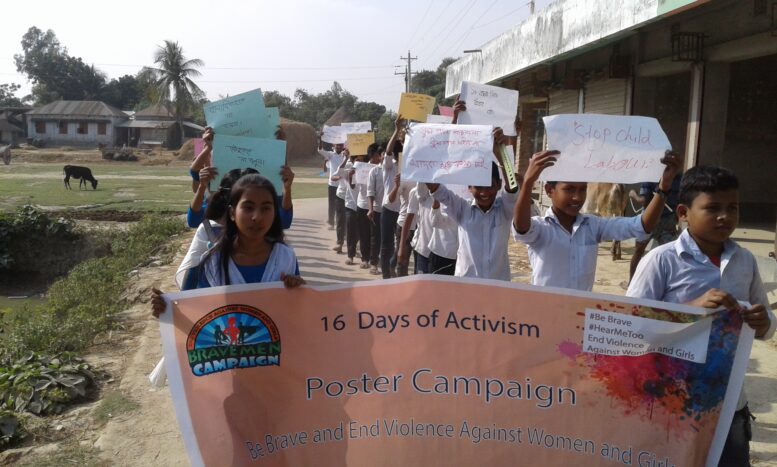 Prio Baba(Dear Father) Campaign
When it comes to the topic of violence within family, fathers are often placed in the role of perpetrators. Being the sole decision maker, fathers are indeed the gatekeepers for violence like child marriage. But research suggested that in most of the cases fathers think they do so for the betterment of their daughters. Does it not reveal that fathers still have love for their children and families? Yes, they do and if they can be shown the brutal consequences of violence–and reveal other positive ways of parenting–then they are sure to transform!
And real life stories of fathers who fought against child marriage and supported girl's education can truly inspire others to think beyond the traditional thoughts of fatherhood and to make changes. In 2015-2017 Prio Baba Campaign celebrated the Role Model fathers and initiated self reflection among 1200 fathers from five districts to enact positive masculine practices and to stop violence at home.
The initiative aimed to identify the most effective ways to involve fathers in preventing discrimination against women and girls in the household and beyond. In line with these objectives, the Prio Baba campaign conducted awareness-raising campaigns in rural areas of five districts of Bangladesh in 2015-17 involving 1200 fathers of 0-5 year's old children. The campaign primarily worked to sensitize fathers on seven different sessions such as fatherhood, equal rights of boy and girl child, role of father and mother in daily household chores, conjugal relationship and impact on children, women's health and pregnancy, equal participation in family planning and impact of drug addiction. This campaign also worked to develop and test community dialogue and role model initiatives engaging fathers to stop violence in their homes.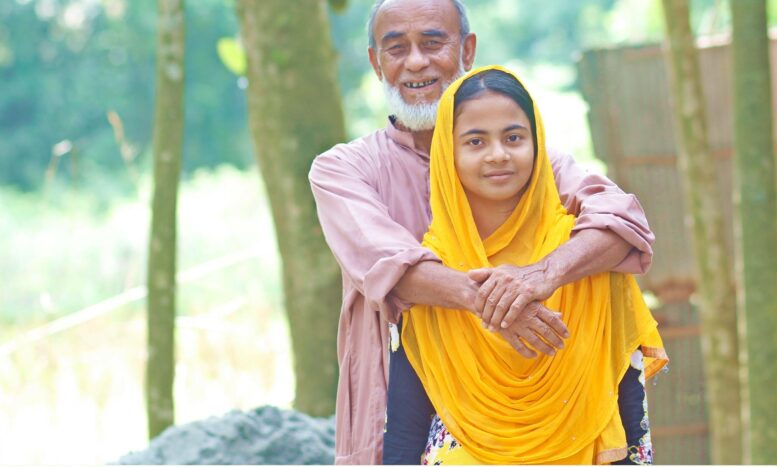 The Campus Hero Cafe
Being a hero is the dream of every adolescent boy, but how to be one?
Adolescence is the period of life when one goes through the physical and mental changes of becoming an adult. But in a society where talking about sexual and reproductive health is a taboo issue, it is hard to get the proper information on sexual and reproductive health and rights which explains the physical and mental changes which the adolescents experience. The adolescents turn to obscene movies, songs and pornography influence them to cultivate toxic masculine traits as heroism. Adolescent boys can start to think that to be the 'Hero' among his peer groups he needs to have a girlfriend at any cost, be powerful and be abusive to girls. This leads to the sexual harassment and violence against women and girls.
CMMS launched the Campus Hero Café in 2016 to provide the adolescents proper knowledge on SRHR and encourage them to ask any questions without any hesitation to know the proper explanations of the changes they are going through and to be hero with proper knowledge and good practices while preventing Gender based Violence.
CMMS implemented "The Campus Hero Café: Engaging Young Men and Boys in the promotion of sexual and reproductive health rights and prevention of Violence against Women" funded by NWO-WOTRO, Ministry of Foreign Affairs, The Netherlands & ShareNet International in 2016 -2018. This project aimed at engaging young men and boys to sensitize them on SRHR in order to prevent violence against women and girls . The 'Campus Hero Café' action research intends to generate better insights in young people's sexual and reproductive health and rights (SRHR) by addressing the following elements: (1) the lack of adequate knowledge amongst young people in Asian societies of issues related to sex, sexuality and gender; (2) the relationship among masculinity, youth, and sexuality, which is essential to better understand and address the social and gender norms, attitudes and practice determining young people's SRHR and their ability to claim their SRHR; and (3) the gaps and limitations of existing strategies engaging young men and boys to promote access to SRHR in Bangladesh and globally.