Work to transform masculinities and engage men and boys in gender equality can have exciting and positive results for women's rights, LGBTIQ rights, and other social justice causes. At the same time, despite good intentions, it can cause harm when done without proper care and consideration.
Even well-meaning interventions can inadvertently support the inequalities that feminist, women's, LGBTIQ, and racial justice movements have been working so hard to dismantle for generations.
By being accountable, we can ensure our efforts are more effective and impactful for gender equality, women's rights, and LGBTIQ rights for all. We can strengthen collaborations and build trust across movements for social justice. And we can work more collaboratively and positively for the transformative change the world urgently needs.
For MenEngage Alliance, being accountable means to:
Be critically aware of one's own power and privilege, and be open to criticism.
Take action to address personal and institutional practices that go against our principles of gender equality and human rights
Always acknowledge any harm caused by our actions, and take actions to make amends.
Respect and promote women's leadership in the gender equality movement.
Create structures of consultation and partnerships with women's rights organizations.
Being accountable is a proactive responsibility. The onus falls on us as individuals, organizations, and as a global community to be accountable in words and deeds. We encourage an open and accountable approach to holding ourselves and each other accountable, and being held accountable by others.
Find out more about what to do if you have feedback or a complaint you wish to report.
The Accountability Framework of MenEngage Alliance
There are three core documents that make up the Accountability Framework of MenEngage Alliance:
Our Core Principles, which set out the values, principles, and commitments shared by members of MenEngage Alliance our members share
Code of Conduct, which outlines the behaviours and practices we commit to upholding–personally and professionally–as individuals working for gender justice
Accountability Standards, which set out our institutional commitments and aspirations for how we do the work that we do, and can be held accountable for it
Together, they form a foundation of our shared values, principles, practices, and commitments as individuals, as organizations, and as a collective.
The Accountability Framework supports us to improve standards and accountable practices across our shared work. It helps foster a shared sense of understanding and commitment for change across MenEngage Alliance.
Taking steps to being more accountable in work to transform patriarchal masculinities and engage men and boys.
There are lots of things you can do to start reflecting on – and improving – accountable practices. Some of the tools below can guide you through an individual or group process to improve accountability.
At national and regional levels and as a global alliance, we run regular workshops for members on improving accountable practices. If you would like to take part in or host an accountability workshop, contact your local MenEngage Alliance network.
Accountability Training Toolkit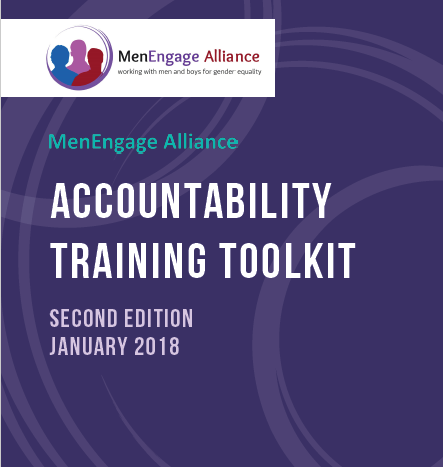 Coming together for an honest discussion about accountability is an invaluable way to promote accountable practices. The MenEngage Accountability Toolkit can help you facilitate a process to improve accountable practices. It is designed to help individuals or groups, to develop a bespoke strategy and approach to accountability.
The accountability journey of MenEngage Alliance
Over the years, MenEngage Alliance has consulted with and listened to many activists and advocates from feminist, LGBTQI and other social justice movements.
We have created spaces for honest feedback, taken on board critical reflections, and actively worked to improve. These discussions and actions are part of our accountability journey – a journey which continues today, and is never finished.
What does MenEngage Alliance need to do better?
Read what feminists, women's rights, LGBTIQ rights, and gender justice activists had to say about MenEngage Alliance at an Accountability Dialogue session in New York in March 2018. The 'On The Spot' report includes 17 recommendations for MenEngage Alliance, our members, and anyone working in the area of 'men and masculinities'.
How can work with men and boys become truly transformative?
The Critical Dialogue on Engaging Men and Boys in Gender Justice Summary Report captures global experiences, concerns, lessons learned and recommendations from individuals working on women's rights and empowerment, and those working to engage men and boys.
Find more accountability resources
Explore all resources on Accountability in work with men and boys.