MoveMen: A partnership approach to gender justice work in Belgium
MoveMen is a partnership between RoSa vzw and vzw Zijn—two Belgian organizations committed to gender justice in Flanders, Belgium. MoveMen sensitizes and informs about stereotypes and harmful views of masculinity, and how these views are related to gender (in)equality, relationships, discrimination and privilege and violence in Belgium.
Rosa has been working since 1978 as a knowledge centre and library for gender and feminism. RoSa brings to the partnership its expertise as an intersectional feminist and gender justice knowledge and resource hub. While Movement Against Violence 'Zijn' (meaning 'Being') has decades-long experience of working directly in communities on preventing violence against women and girls, including working with men and boys.
By working together, MoveMen's project partners are bringing their complementary perspectives, experiences, and knowledge to a project that harnesses the strengths of each organization.
MoveMen is a project for working with men and boys for gender justice and violence prevention in Belgium
MoveMen has a number of focus areas. The joint initiative includes direct work with men and boys, such as in schools, in prisons, and with fathers. In addition, it develops gender justice-focussed trainings and workshops for use in those settings, drawing on and contextualizing programs from around the world.
"We each bring different perspectives and approaches to the project", says Myriam Halimi, gender advisor and trainer at RoSa vzw. "At RoSa, we are running workshops and trainings that are often more centered on sensibilization and sharing information. Whereas Zijn has more practical experience working directly with groups of boys and men. Both kinds of expertise were needed for creating more effective, gender-transformative interventions. The kinds of knowledge and approaches we bring are quite different but complementary."
The MoveMen project is also a means to connect national and international trends around 'men and masculinities' work with organizations working on these topics for gender justice in Flanders. The website, movemen.be, provides an online hub for this, as well as MoveMen's other programs and educational materials.
A key part of the MoveMen project is known as 'Platform MoveMen'. Platform MoveMen is a regular space for dialogue on the issue of men and masculinities with a feminist vision and the role of men and boys in gender justice work. It brings together researchers, practitioners, and others interested in transforming rigid stereotypes around masculinity, and their negative consequences for everyone (including men and boys themselves).
The dialogues, which are held every two months, are spaces for exchange and to foster new collaborations and ideas for the work for gender justice in Belgium. Members of Platform MoveMen have collaborated in advocacy and campaigns, including on suicide prevention for men and advocacy for greater equity in parental leave.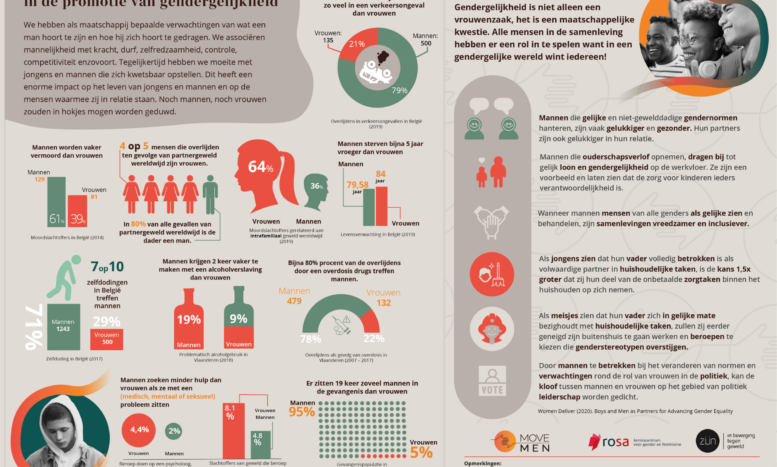 How the partnership came about
"At Zijn, we always had difficulties with the idea that violence is a women's issue, without unpacking the roles and responsibilities of men within the picture" said Koen from Zijn. "We understood that to tackle the roots of gender-based violence means not only working with women and girls, but also with men and boys. So we researched what initiatives were out there and came across MenEngage. This led to us attending a conference where Dutch organization Emancipator was speaking. And then the penny dropped that the Belgian context could also benefit from similar approaches, and so we began searching for other like-minded organizations in Belgium."
Myriam added, "As a longstanding feminist organization, we have always had a strong focus on gender justice in terms of women rights. However, for a long time there was no specific visibility on the topic of men and masculinities. As well as a lack of attention on the topic, we also noticed resistance to the idea of engaging men and boys in what has traditionally been perceived as a grassroots women's movement. And so we wanted to explore that more in a way that remains grounded in our intersectional approach to understanding gender and feminism."
With each organization looking to add 'men and masculinities' approaches to their existing work, they collaborated in a larger project called EquiX that had a focus on working with men and boys for gender justice. EquiX included partners from across the European Union (EU). It led to a series of practical handbooks, workshop curriculums, and recommendations for preventing and ending gender-based violence in EU contexts.
Through working together on EquiX, RoSa and Zijn realized they could work together to address the gaps they saw in Belgium in terms of discussions, programs, resources, and initiatives that focus on gender-transformative work with men and boys.
The partners decided to take action, and sought a way to structurally work together in the region of Flanders in Belgium. In 2020, RoSa and Zijn launched MoveMen. Under the MoveMen umbrella, the two organizations work together on projects to work on men and masculinities in the context of Flanders, Belgium.
What now, and what next for MoveMen?
Now in its third year, MoveMen has already implemented a series of projects. For example, EquiSchools, is a project in education settings to addresses topics like gender (equality), emotions, and prevention of (gender-based) violence. Moreover, MoveMen maintains the online hub at movemen.be and facilitates the MoveMen Platform.
The project partners look to continue working together on initiatives to transform negative stereotypes around masculinities, for gender and social justice in Belgium.
"The main conclusion is that our projects are just better", says Myriam. "For example, adding an intersectional perspective means we are more mindful of representation and diversity within scenario examples used in workshops and are mindful of intersecting forms of discrimination."
Koen added, "The partnership has led to better interventions with men and boys, working in a positive way on their own terms, opening up with them from the inside. And different kinds of expertise were needed for creating more effective workshops. We have different target groups, which have enabled us to reach broader audiences. And the partnership has opened up a bigger network, and broader funding opportunities than working as individual organizations."
For now the partnership is focussed on continuing MoveMen in a sustainable way, and how it might be secured for the long-term. Koen said: "The work is needed. So we work together and try to make the best project we can, and we will see what the future brings".
Find out more about the project partners at:
rosavzw.be
vzwzijn.be
movemen.be
Main image credit: Alejandra Castro