New report builds the evidence for promising practices to inform feminist foreign policies
A new report by Global Public Policy Institute highlights promising practices for promoting feminist foreign policy. A range of examples from civil society have been highlighted in the report, including the approaches of MenEngage Alliance to network building.
'Building Peace, the Feminist Foreign Policy Way: Good Practices' is a report intended to inform the funding strategies of governments and donors who have adopted a feminist foreign policy – in particular in the area of peacebuilding. The report takes practical examples of different social justice actors 'in which at least some principles of an inclusive feminist foreign policy have been put into action.'
The report draws on the experiences of funds, networks, and feminist initiatives to share lessons for feminist foreign policy globally. The work of MenEngage Alliance was included as an example of good practice alongside other social justice initiatives, networks, and funds.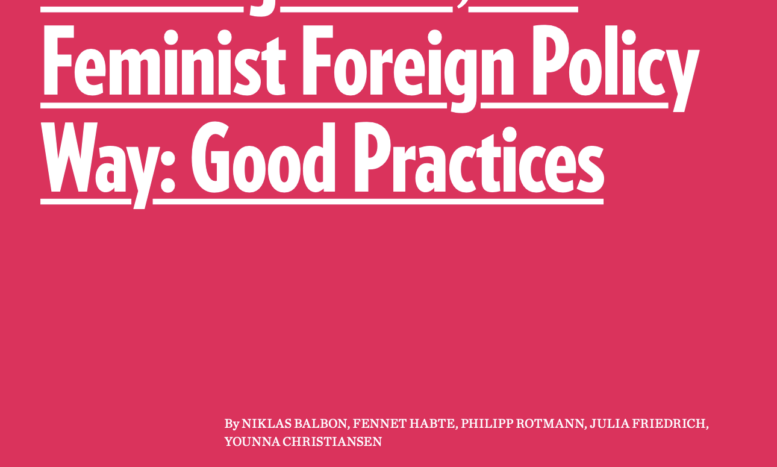 Niklas Balbon, research associate at the Global Public Policy Institute, said: 'The study presents principles and real-world examples of feminist approaches to stabilization, peacebuilding and crisis prevention. These examples indicate ways in which a feminist foreign policy can achieve positive impact in peacebuilding by empowering and resourcing local actors that demand political, transformative and inclusive approaches. We think it is essential to highlight the transformation of masculinities as a vital part of this work, alongside the resourcing of women's rights organizations, women peacebuilders and young feminist activists in crisis settings.
'The report argues that while there are many examples of "good practices", donors need to re-think their funding mechanisms to become better, feminist funders. We also include a series of recommendations that donors should implement to re-distribute their resources and to yield greater agenda-setting and decision-making power to marginalized groups and their representatives.'
Recommendations
The report makes a number of recommendations for good practice towards feminist foreign policy. You can explore each point below in more depth in the report.
What to do (and with whom)
Emphasize (and fund) efforts that empower marginalized groups by working with local partners, where possible led by members of the groups these efforts seek to empower.
Devise (and fund) dedicated efforts to analyze exclusionary structures and build countermeasures into project designs.
How to fund
Leverage feminist networks as intermediaries to enable Grant-Making to small partner organizations.
Provide core or institutional funding to implementing partners.
Allow and encourage partners to use project funds to build and foster learning and exchange.
Ensure flexible funding mechanisms that can quickly adapt to changing local conditions.
How to Work Together
Leverage local knowledge and priorities for more impactful action by codetermining strategic objectives with local actors, including marginalized communities and beneficiaries.
Support the institutional development of feminist organizations through capacity building and knowledge transfer.
Navigate the tension between building trustful, cooperative and longterm relations and maintaining or expanding access for new actors.
MenEngage Alliance members sharing their experiences of feminist organizing
Several members of MenEngage Alliance were interviewed for the report, sharing experiences of being members and the ways we operate, as well as their own peacebuilding efforts. Members consulted were:
ABAAD, Lebanon
Foundation for Innovative Social Development (FISD), Sri Lanka
Rwanda Men's resource Centre (RWAMREC), Rwanda
Men's Association for Gender Equality, Sierra Leone
Congo Men's Network (COMEN), the MenEngage in-country network in the Democratic Republic of the Congo (DRC)
Joni van de Sand, co-director of MenEngage Alliance, said:
'As a global network, we are seeking to mobilize towards the joint feminist struggle, including through movement building, capacity strengthening, and political advocacy with our members around the world. We strive to take a decentralized approach to this, empowering grassroots leadership and supporting interventions that are designed and implemented locally. While the report's goal is around feminist funding towards peacebuilding, the examples it shares offer valuable, practical insights for all governments seeking to implement feminist policies. Even broader, the findings are relevant for anyone working to promote human rights and social justice.'