Now is the time to follow the leadership of feminist and women's rights defenders – including those on the ground in Afghanistan
In Solidarity with the people of Afghanistan
MenEngage Alliance, with our members from regional and country networks in Africa, the Caribbean, Europe, Latin America, North America and the Middle East, joins MenEngage Alliance South Asia in solidarity with Afghan women's rights activists, feminist movements, human rights defenders, journalists, and the Afghan people in the face of the takeover of Afghanistan by the Taliban.
We stand in solidarity with the people of Afghanistan, especially the feminists and human rights activists, groups, organizations and networks on the ground who are standing against those who have seized power.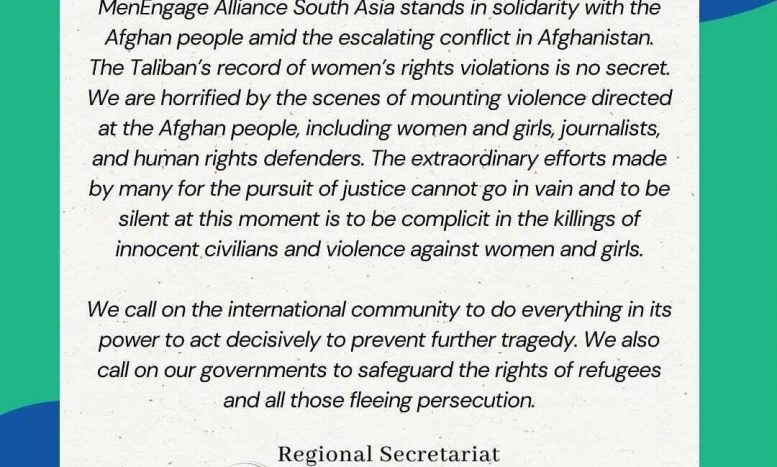 We call on the international community to heed the calls of women's rights activists and human rights defenders in Afghanistan.
The needs of the people of Afghanistan – in particular women, children, LGBTQI individuals, human rights defenders, and those targeted based on their links to international actors like the US – must be central to all responses. International actors must commit to supporting these groups now, as well as in the months and years ahead. This includes urgently assisting human rights defenders currently mobilizing on the ground in Afghanistan, as well as those trying to get out, in the face of unimaginable risk to themselves and their loved ones.
We support the statements released by women's rights, social justice and feminist networks and organizations, including Women's Action Forum-Pakistan, Iranian Women's Association, Musawah, AWID, MADRE, ILGA, WLUML, as well as that of the Office of the High Commissioner of Human Rights Special Procedures in their joint call for immediate measures to ensure the safety and security of people in Afghanistan.
We join the calls from the international community, including the UN Secretary General, for all parties to the hostilities to uphold their [legal and moral] obligations under international humanitarian law. The Taliban are using violence and imposing severe restrictions on human rights in Afghanistan, particularly targeting women, girls and journalists. Directing attacks against civilians is a serious violation of international humanitarian law. Perpetrators must be held accountable.
We call on the United Nations and all UN Member States to uphold their legal and moral responsibilities for this humanitarian crisis and to act decisively to protect the human rights of the people in Afghanistan.
The global community must acknowledge that this tragedy is a result of decades of geopolitical forces and powers working towards their own interests in the region.
They must be held to account, now and in the long-term. The current situation in Afghanistan reflects a world order that continues to be shaped by patriarchal masculinities and hegemony based on control, domination and self-interest. History will paint a damning picture of both the fundamentalist regime of the Taliban, as well as the neocolonialist, militaristic, and islamophobic logic upon which international interventions have been shaped over two decades of foreign policy from the US and its allies. We call for an approach informed by feminist peace. The military industrial complexes and war machinery that continue to fuel global conflicts for power and resources must end.
To members and partners of MenEngage Alliance; while we may feel powerless given the situation that is unfolding, there are actions we can take within our own spheres of influence. We can educate ourselves about the history and causes of the conflict in Afghanistan, leading to the situation we have today (for example by reading the statements shared above). And we can mobilize and add our voices to existing initiatives. We reiterate this call by AWID: "You can lobby your government to stop all deportations and ensure safe and dignified entry for all refugees, with additional measures to protect human rights defenders such as emergency visas. You can amplify the voices of Afghan feminists and build collaborations."
We humbly request everyone from around the world to step up with your contributions and actions in any form. Now is the time to support the courageous organizing on the ground , including the country-wide escape and support networks being set up for women's rights activists and human rights defenders facing targeted assassination. We encourage you to make donations to initiatives and organisations that support these urgent needs in Afghanistan directly.
Photo by Ehimetalor Akhere Unuabona