European members meet in Seville, Spain, and take part in solidarity march against gender-based violence
Members from across Europe convened last week in Seville, Spain, to strategize around collective work to transform masculinities in the region.
The MenEngage Europe meeting saw more than 50 participants from 17 countries come together for a series of workshops, presentations, and discussions. 
To coincide with the gathering, members from MenEngage Iberia, who hosted the meeting, co-organized a public march for male allyship and solidarity against gender-based violence. 
MenEngage members from Portugal, Spain, Denmark, Albania, Kovosco, Croatia, Bulgaria, Malta, Greece, Cyprus, France, UK, Ireland, Netherlands, Belgium, Sweden, and Poland were greeted by Joni van de Sand (co-director at MenEngage Alliance Global), who gave a presentation on the global MenEngage network as an introduction to the meeting. 
Participants later took part in a workshop on the MenEngage Ubuntu Global Symposium –  a 7 month long symposium concluding in June of that same year. The key document that resulted from the symposium, the Ubuntu Declaration and Call To Action, was presented. Participants discussed how the document's political agenda, calling for commitment towards feminist systems change, relates to the work and strategy of MenEngage Europe.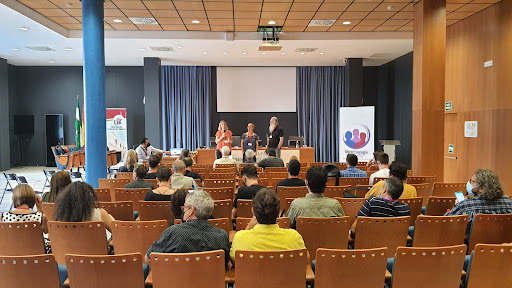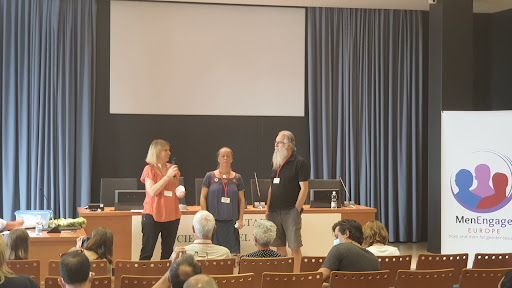 During the four-day MenEngage Europe meeting, members led and participated in workshops to share methods, promising practices, and their experiences around work with men and boys and transforming masculinities for gender justice. 
A highlight of the meeting was the 'Men Against Gender-based Violence' demonstration that took place on Thursday 21st of October. This march against gender-based violence has been going on for 15 years as Miguel Lázaro (vice-president of Masculinidades Beta in Spain and member of MenEngage Ibería) stated in a Now and Men podcast episode.
'This year is very special because we are celebrating the 15th anniversary of the first demonstration in Spain.' (Miguel Lázaro, 2021).
MenEngage Europe alongside other organizations (Masculinidades Beta in Spain, MÄN in Sweden, Men's Development Network in Ireland, to name a few) participated in the yearly demonstration. Drums, banners, and dances filled the atmosphere as Sandy Ruxton, honorary research fellow at Durham University in the UK, mentioned in the podcast.
'I can just see in the background that MenEngage colleagues are dancing as well. It just shows that these protests can be joyful as well as angry,' (Sandy Ruxton, 2021).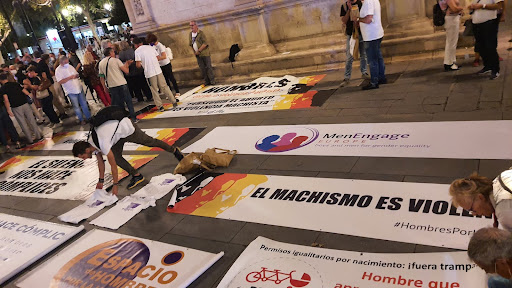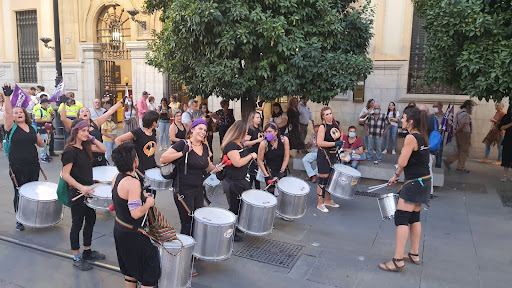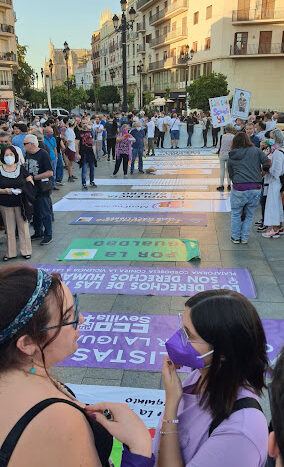 Joni van de Sand, Co-director of the MenEngage Alliance Global Secretariat, emphasized the importance of men's allyship in women-led feminist marches.
'I think it's very important for men to show up in what has already been organized as well. So on International Women's Day, women groups have been leading marches all around the world; so it's also important that men are present there. Not to take over the space, but to show up. To let women lead, to be there and walk and march with us.'
(Joni van de Sand, 2021).
Other resources talking about this march are an RTVA news-video, and a report written by Colm Kelly Ryan (head of programmes at the Men's Development Network in Ireland) where he details the demonstration.
The day after the march, members of MenEngage Europe were introduced to MenEngage Ibería, and took part on the 'Feminist Agenda on Men and Masculinities' session (which was being held parallel to the MenEngage Europe meeting).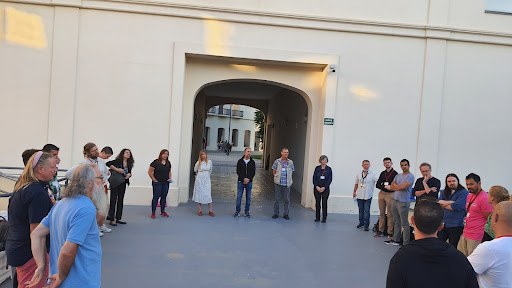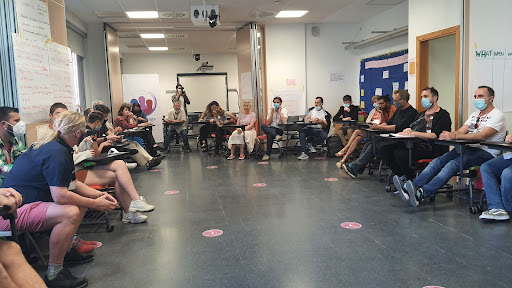 Finally, the MenEngage Europe members underwent an 'Open Space' format that focused on the three strategic strands of the organization: Networking, Capacity Building, and Advocacy. Some of the topics that came up in the workshop were:
How can MenEngage stand in solidarity with other movements to achieve system change?

What does intersectionality mean for us? (Having an anti-racist collaboration)

How can we work together to counter backlash?

Working on men's demand in sex work/prostitution.

LGBTQI+ Youth.

Sexualities and education.

Caring masculinities.

Being held accountable.

Advocacy on European and country level.